Platinum ($ PL_F) and Palladium ($ PA_F) are often forgotten. Especially when the price action in Gold ($ GC_F), Silver ($ SI_F) and Copper ($ HG_F) has been so volatile and ugly. But they have stories to tell too. And like Copper they are industrial metals. What are they saying.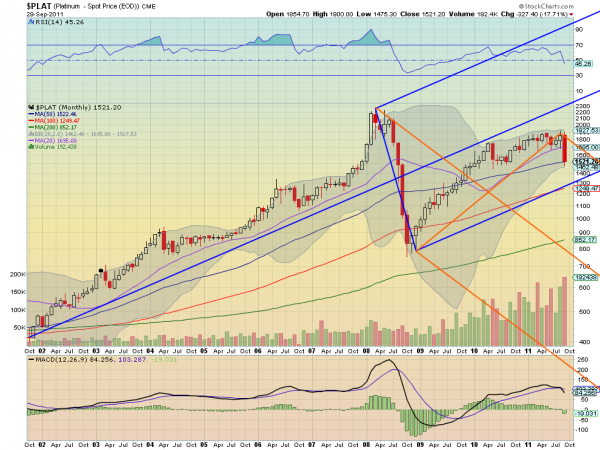 The monthly chart above for Platinum paints a dim picture. The Relative Strength Index (RSI) is falling hard and the Moving Average Convergence Divergence (MACD) indicator has crossed negative. Adding to the drama is the Bollinger bands squeezing in as it starts to fall lower from the Median Line (ML) of the bullish Andrew's Pitchfork toward the Lower Median Line (LML). Now with the LML attracting it to 1300, or 15% lower, with increasing volume it suggests a bleak future for the next few months.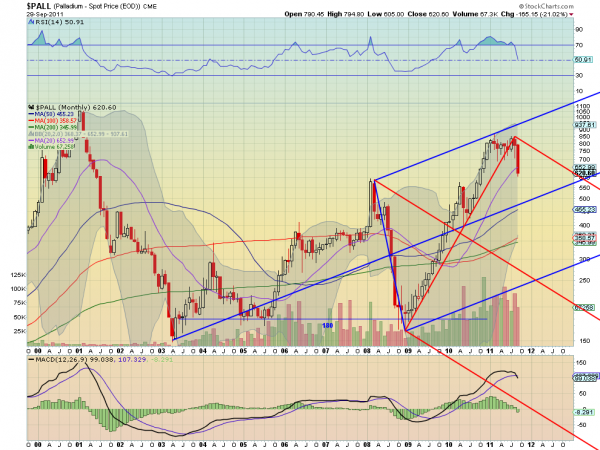 Palladium is not any better. It also has a RSI that is moving steeply lower and a MACD that has crossed negative. This is being attracted to the ML of the bullish Pitchfork near 475 or almost 25% lower. Below that ML it gets ugly.
Platinum and Palladium are painting the same horrible economic picture that Copper has been showing. Despite the broad markets ability to hold up so far, it appears that all the industrial metals are signaling weakness. The divergence cannot go on for long. Pay attention and prepare.
For more ideas and deeper analysis using the Get Premium button above. As always you can see details of individual charts and more on my StockTwits feed and on chartly.