This basic monthly chart of the Dow Jones Industrial Average ($ DJIA, $ DIA) tells you all you need to know about the markets.
Your first take away is that if you do not use Fibonacci's in your trading then you are really flying blind. I have put the major Fibonacci levels from the 2007 high to the 2009 low on this chart in green. Every one of these levels has played a role in the run higher from the 2009 bottom at least once. The initial thrust higher stalled at a 50% retracement and then pulled back at a 61.8% retracement. The move lower stopped a bit short of the 38.2% retracement but also near a 38.2% retracement of the initial thrust. This signaled a bullish continuation. The next thrust slightly overshot the 78.6% retracement on the crisis move lower before pulling back to the 50% retracement level. This was a pullback of 75.8%, almost 78.6% or as others use 76.4%. The last leg higher is the conundrum. Failing to make it to the 100% retracement, and now with one day left in the monthly candle, sitting near that 76.4%/78.6% level.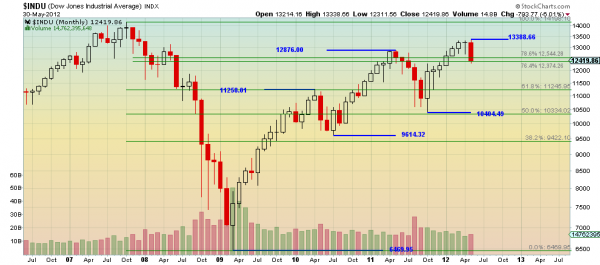 This is what makes the direction in the short term difficult to determine. Sitting on support, but a long way from both the full 100% retracement and the 61.8% support levels. That is the second take away. Near a Fibonacci level inflections can occur. The long red candle for May confirming the doji Hanging Man for April suggest that 11245.95 is in the cards. But does it end there?