Here are the Rest of the Top 10:
Biogen Idec, Ticker: $ BIIB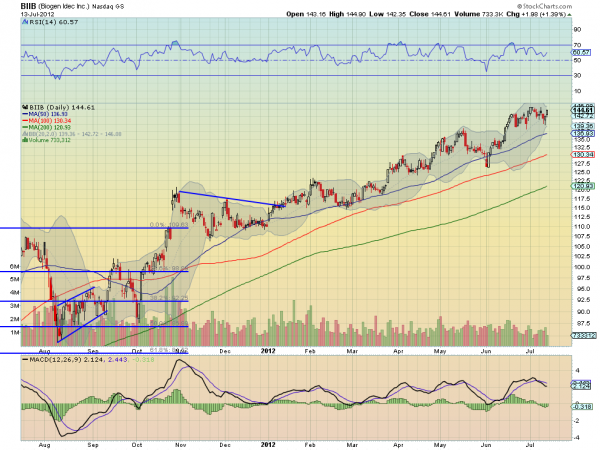 Biogen Idec, $ BIIB, is testing resistance at 145.67 in a consolidation channel. It has support for a move higher from a Relative Strength Index (RSI) that is bullish and holding over the mid line and a Moving Average Convergence Divergence indicator (MACD) that is negative but starting to trend higher. The Bollinger bands are squeezing for a move as well. The 3-box Reversal Point and Figure chart (PnF) has a bullish price objective of 185, and the Measured Move out of consolidation has a target of 164.50.
Dillards, Ticker: $ DDS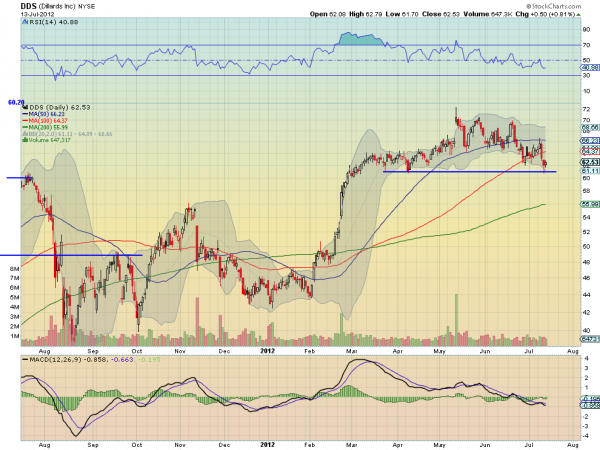 Dillards, $ DDS, is holding minor support at 62 over the major level at 61. It has been progressing lower from a shooting star top in early May in a series of thrusts lower. The RSI is bearish and trending lower with a MACD that is negative, both supporting further downside. Short interest at 9% may prop it up if it bounces but the PnF has a price objective of 54, near the gap up from February.
DaVita, Ticker: $ DVA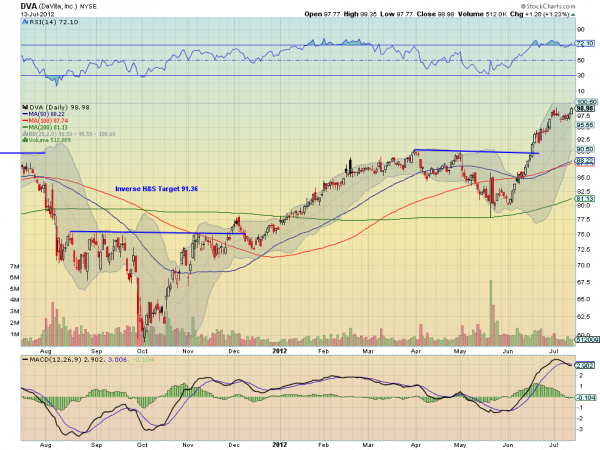 DaVita, $ DVA, may be moving higher from a bull flag after the break out over resistance in June. The RSI remains elevated but the MACD is turning back to the upside after a brief stint in negative territory. The PnF price objective is at least 138 and the Measured Move out of the flag tot he upside takes it to 120.
Phillips 66, Ticker: $ PSX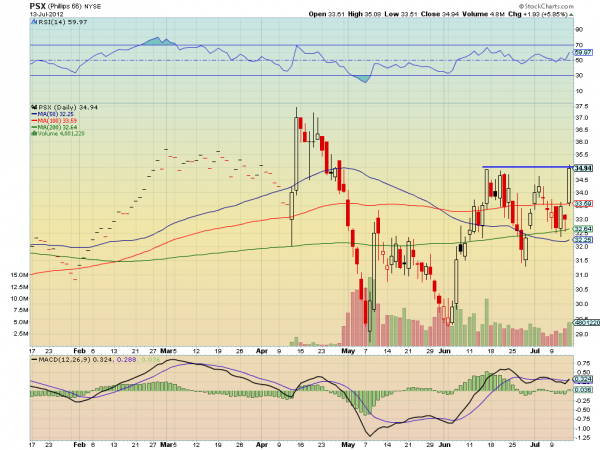 Phillips 66, $ PSX, was spun off from ConocoPhillips in April. Since then it immediately moved lower and created a double bottom at 29-29.50 before the recent move higher. Consolidating that move now, it is testing resistance with support for further upside from a rising RSI and a MACD that is turning positive. A push through higher has a Measured Move to 40.50 and the PnF price objective is to 46.
US Cellular, Ticker: $ USM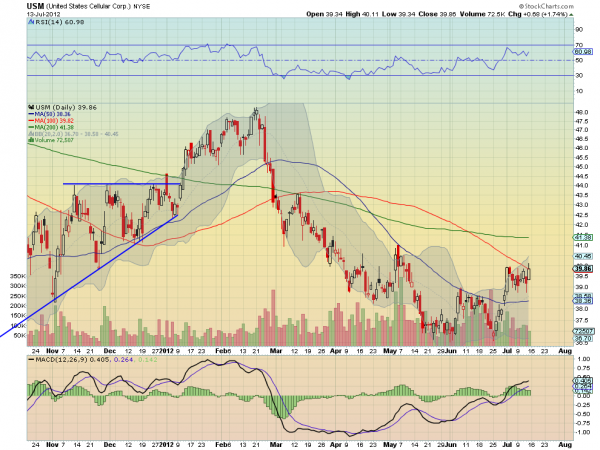 US Cellular, $ USM, is consolidating in a bull flag after making its own double bottom at 37. The break of the flag higher carries a Measured Move to 43. The RSI bullish and rising and positive MACD support that break higher. The PnF disagrees though with a price objective of 25. This would be reversed though on a move over 43.
Up Next: Bonus Idea
If you like what you see sign up for more ideas and deeper analysis using the Get Premium button above. As always you can see details of individual charts and more on my StockTwits feed and on chartly.
After reviewing over 1,000 charts, I have found some good setups for the week. These were selected and should be viewed in the context of the broad Market Macro picture reviewed Saturday which, heading into the new week sees a bit of a positive tone but with a diverging inter-market macro view. Gold and Crude Oil look to continue their trends lower but with consolidation or a short term rise. The US Dollar Index and Treasuries both look to continue higher. The Shanghai Composite looks to continue lower while Emerging Markets follow Equities drifting higher. The Volatility Index looks to remain subdued and may even move lower. This creates the mixed view with Treasuries and the Dollar support downside for Equities while Volatility allows for a further rise. The charts of the Equity Index ETF's, SPY, IWM and QQQ, all look better to the upside in the short term within broad consolidation or bear flags. Use this information as you prepare for the coming week and trade'm well.