This is not about Jewelry. Nor is it about commercial construction. It is about liquor. Specifically Beam, $ BEAM, the makers of Jim Beam Bourbon. This stock has been in the news a bit lately for diluting down their premier product. But with that water under the bridge, there is an interesting phenomenon occurring in the chart. A Diamond Pattern has formed and is about to break down. This rare pattern can resolve either up or down, but is better known as a Diamond Top and that is what it is showing today. The target out of the pattern is a retracement of the move into the pattern,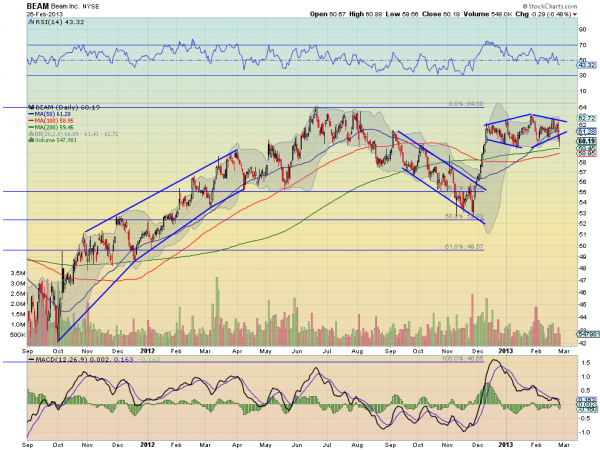 and that is why it is interesting. A drop all the way back to 53 would be quite a short trade. Don't believe in the patterns and want some quantitative support? Fine, the Relative Strength Index (RSI) and the Moving Average Convergence Divergence indicator (MACD), both measures of momentum are both pointing lower. The MACD has been out in front leading the way since the initial run up. A move under the 100 and 200 day Simple Moving Averages (SMA) below 58.95 seals the deal lower and can be used as a short entry. Hmmm, I am getting thirsty.
Join the Dragonfly Capital Views Premium Membership
Sign up here to get deeper analysis and nearly 50 trade ideas every week.
Dragonfly Capital Views Performance Through February 2013 Expiry
The post Sometimes A Beam Can Be A Diamond appeared first on Dragonfly Capital.