I had a someone ask me on StockTwits what I thought of VMWare, $ VMW, back on June 4th. This was my response.

Since then I have been looking for a reason and entry to be short. With the sideways motion for the last two weeks it has done so. The chart below shows that it has been building a descending triangle over support at 70 since February. The target on the break below takes it to 40. Both the bearish Relative Strength Index (RSI) and the Moving Average Convergence Divergence indicator (MACD) support more downside. And the accumulation/distribution is rolling lower. Distribution confirming the rounding top seen back on June 4th. Short interest is less than 3% so the risk of a squeeze is small. A close below 70 on the weekly chart seals the deal on the short trade.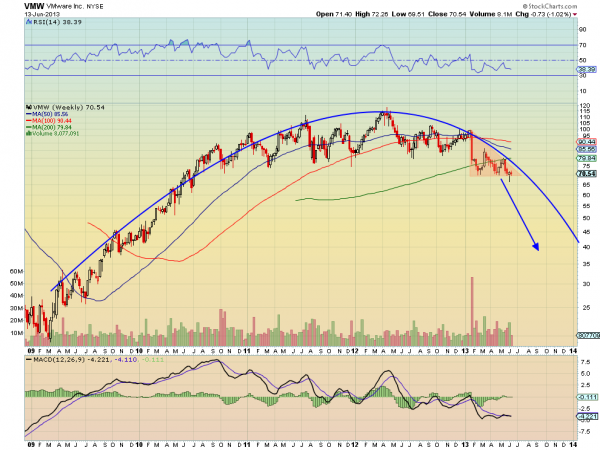 Join the Dragonfly Capital Views Premium Membership
Want to learn more about Dragonfly Capital Views?Dragonfly Capital Views Performance Through May 2013 Expiry and sign up here.
The post Getting Around to Shorting VMWare appeared first on Dragonfly Capital.