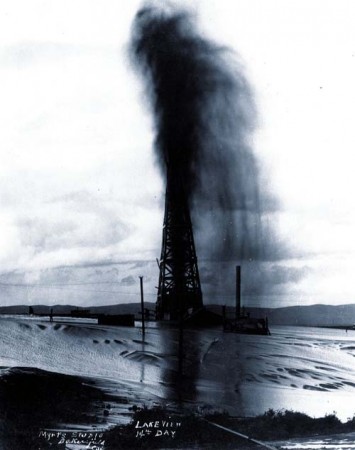 Oil had a bad last half of 2014. That is an understatement. West Texas Intermediate (WTI) Crude Oil fell nearly 60%. That was good news at the pumps but not so good news for oil investors. After making a low early in January it bounced and then fell back. It looked like false hope. But then it bounced again to start March, and so far has not looked back. Is a reversal occurring? There sure are signs for it.
There are many ETF's that stock traders can use to invest in oil without getting into the futures markets. The Crude Oil ETN below ($ OIL) is one of them. Backed by Barclays and touting more initials than a NASA scientist, it is intended to follow WTI futures contracts.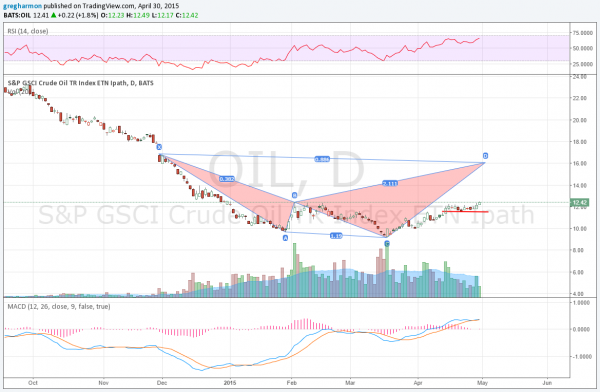 In the chart you can see the drop and then 'W' like bottom. As a technical trader I look for confirmation before entering a trade, so today is when it got interesting. The price moved above the February high. A higher high. But not only that. It got there with momentum indicators backing the continuation higher. The RSI is rising and bullish and the MACD crossing up as it rises.
Finally, there is a harmonic Shark pattern playing out that confirmed with the move over the February high as well. This pattern has two targets. The first (shown on the chart) is to 16.05, an 88.6% retracement of the leg lower. The second it a 113% retracement and would give a target of 17.80. You can argue with me that the point "X" should be drawn higher. But that would only raise the targets. I bought the ETN for clients on the price break higher.
Get my new ebook, Markets for 2015 and Beyond, a long term forecast with all proceeds going to charity.
Want to learn more about Dragonfly Capital Views?
Dragonfly Capital Views Performance Through April 2015 Expiry and sign up here
The post Oil is Gushing! appeared first on Dragonfly Capital.