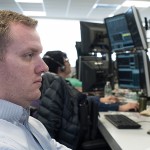 Andrew Falde shared in today's Options Tribe meeting his methods for finding and managing short term options that can hedge core positions and boost probability of success.
If you attended the meeting, you heard about a great opportunity for you to dive deeper into learning how these strategies can be deployed on a very practical level.
Andrew believes there is no better way to learn than through watching live examples.
So, this Thursday at 10:00 AM Eastern, Andrew will host a live class to go through the process of finding, executing and managing trades using conditional orders on weekly options.
This class is a one Read more […]
SMB Capital – Trading Education