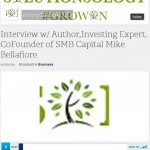 Listen to this trading interview with Bella on Blog Talk Radio hosted by Aleksander Danilov of Solutionsology.com by clicking this link here.
Bella discusses:
1) Why he wrote The PlayBook
2) Process: How The PlayBook and the SMBU Performance Center powered by Tradervue helps traders develop a process where they can build from their strengths.
3) Following like-mind traders on StockTwits (@annemarietrades, @alphatrends, @steenbab, @harmongreg for example).
4) The JV with the Kershner Trading Group and the business model:
Back experienced traders and take all down-side risk
Provide significant downside
Offer Read more […]
SMB Capital – Day Trading Blog