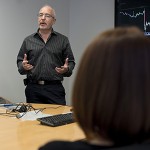 December 16, 2014
Today, Andrew Falde returns to the Options Tribe to discuss the topic of Trend Following Using Options.
SMBU's Options Tribe is an online community of options traders dedicated to sharing successful options trading ideas with all of our members worldwide. Each Tuesday, SMBU hosts an options webinar — the Options Tribe — during which veteran options traders and experts in the world of options trading share live presentations.
Options Tribe meetings are generally free to the public and are held every Tuesday at 5:00PM ET. If you wish to register to this meeting, please click here.
We look forward Read more […]
SMB Capital – Trading Education