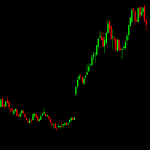 The Second Week of More Mindful Trading
In this post, I will continue my eight week experiment with cultivating mindfulness and trading. The first post in the series can be found in the post Eight Weeks to More Mindful Trading.
Just in case you missed that post, I will provide a brief refresher on mindfulness. The topic is all the rage right now because people want to take back control of their attention span and to beat back the numerous distractions in everyday life. Mindfulness is about learning to control your attention and your focus, so that you can observe your thoughts and feelings without necessarily acting on them.