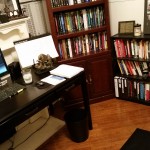 I had a wonderful conversation with a retail trader who has read 194 trading books.  Wow!
This gentlemen has a passion for trading and reading about trading.  I was actually speaking to him about our firm backing his trading.  He has developed a track record while working full-time in the Heartland.
For those of you trading retail who dream of one day trading pro, here is one guy taking the steps to achieve that goal.  It can be done!
I thought it would be interesting to the trading community to learn his Top Ten Trading Books since he has read so many.  (In any list like this, there will be many great contributions Read more […]
SMB Capital – Trading Education